Algarve - Habits and Customs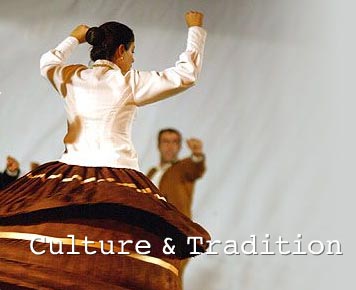 A diversity of wisdom

This region has always proved attractive to settlers who down the ages have come here from a wide variety of origins and cultures. This has led the modern Algarve to retain very special characteristics that run throughout its people's way of life. These special features are expressed in such distinct fields as Architecture (with the original chimneys standing out), Music or Gastronomy. Many such traditions have survived the ages and form a major attraction for visitors to the region. From the handicrafts, especially rich osier weaving and painted ceramics, to the very special way in which festivals are celebrated, you will find the rich heritage of a progressive region, which the local inhabitants take great pleasure in sharing with their visitors.
A particular attraction has proved to be the local music, heard throughout the region. From hotels to restaurants, from festivals to traditional celebrations, the typical Algarve dancing and singing celebrations, whose particular highlight is the "corridinho" folk dance, delight everybody with their infectious rhythm and pace.
As would naturally be expected, some of the Algarve's best traditions come directly from the sea. Take, for example, all the depth of the traditions to be found amongst the communities engaged in fishing and the gathering of shellfish.
Traditions that still convey their vibrancy to the delight of all visitors!
During your holiday don't forget to visit the most famous and important highlights of the Algarve .Beginning with the Algarve 's capital, located at the sea side Faro, is surrounded by the Ria Formosa, a nature reserve of 17.00 hectares and stopping place for migrating birds. The Faro airport is connecting the Algarve with most European capitals by direct flights and handles several million passengers a year. Drive west and you will arrive to Vilamoura. A special place, an exclusive leisure and recreation resort community where the peace of life is so easy it feels like summer all year round. Driving a few kilometres more, you will get to the centre of the Algarve , Albufeira, acknowledged as one of the main tourist regions of the country. Continuing towards the heart of the sunny Algarve , you will find the small inlet of Carvoeiro protected between high cliffs. A few kilometres ahead, Lagos is our last stop. A Marina presents a lovely picture and the harbour, is the first sight a visitor has. With its relaxed atmosphere and quiet charm, make it one of the most appealing locations in the Algarve to visitors from abroad, an important tourist town there are still many architectural signs of its ancient past.Car Hire in the Algarve at a cheap price, a brand new vehicle and a helpful team to assist you. We suggest the following websites: Algarve Car Hire, Car Hire in the Algarve, Car Hire Portugal, Portugal Car Hire, Car Hire Lisbon, Faro Car Hire, Vilamoura Car Hire, Albufeira Car Hire, Carvoeiro Car Hire, Lagos Car Hire. If you need airport transfer from or to Faro airport check out Algarve Transfers.