Monchique Overview
Visiting Monchique
Monchique is best visited on foot. A walk through the steep streets of the town Centre is rewarded with views of magnificent hills, glimpsed between houses, and moments of sunlit calm in unsuspected corners. It leaves a memory of a hill town with a history and character all of its own and instils a strong desire to return.
Historical Centre
The houses of Monchique display many of the traditional features of Algarvean architecture - white walls, carved stonework, bands of colour around doors and windows - but their "saia" (literally "skirt") chimneys are quite distinct from those found on the coast. The narrow streets that wind up the steep hillside, revealing fresh views of verdant hills at every turn, lend the town a certain exoticism to which camellias, hydrangeas and fruit trees add a fragrant suggestion of gardens and orchards. An opportunity to discover a facet of the Algarve unlike any other.To appreciate fully how pretty Monchique is, head for the Largo de São Sebastião. The white houses look as if they are perched on steps carved into the hillside, amid a fairy tale setting of bright flowers and cool, green trees.
Municipality of Monchique
Caldas de Monchique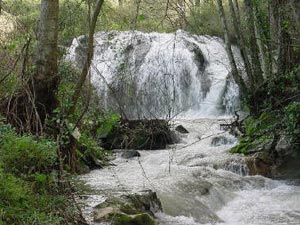 The Romans built impressive baths on the site now occupied by thermal facilities dedicated to treating rheumatism and chronic respiratory illnesses and the springs have been put to therapeutic use ever since. A pretty square shaded by trees and flanked by attractive buildings dating from the end of the 19th and beginning of the 20th centuries epitomises the calm and relaxing atmosphere of Caldas de Monchique. It's worth visiting the little glazed pavilion where the fountain plat's and the chapel of Santa Teresa (St. Theresa), which contains a series of 18th century tiled panels telling the story of the saint's life.The biggest attraction of Caldas de Monchique is however the extensive wooded park that rises up the hillside. Dappled patterns of light and shade, a softly murmuring river and trees that are hundreds of years old make the perfect backdrop for a gentle stroll or a picnic at the stone tables provided.
Alferce
This charming village is made up of houses built in the style typical of the Algarvean countryside. The medieval origins of the village church are evident in its ogival porch, its triumphal arch and the ribbed vault in its main chapel. Nearby, on Cerro do Castelo, stand the ruins of a fortification with concentric walls that was probably built by the Romans.
Marmelete
The low white houses of the Algarvean hills stand out from a palette. of warm browns and ochres. The bucolic country chapel of Santo Antonio (St. Anthony) stands on a small elevation and affords fine views of the surrounding countryside.
Monchique Hills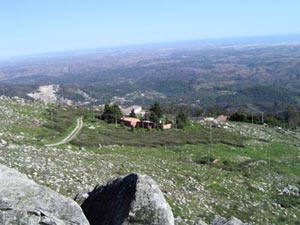 Foia, which at 902 metres is the highest point in the Algarve. From there the view stretches away on one side as far as Cape St. Vincent and north to the Serra da Arrábida, near Lisbon, and on the other to Faro and a vast semi circle of hills.Picota is 774 metres high, but steeper, and has broad and perhaps even more beautiful views that take in a long sweep of the Algarve and Ithe sea.Such viewpoints make a good starting point for an exploration of this region of steep massifs cut through with valleys and ravines, of rivers and springs where all year round cold water bubbles clear over stone.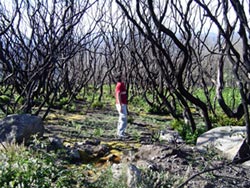 The temperature and rainfall of the Monchique hills are those of a subtropical maritime mountain type climate, which is why exotic plants like yams thrive here. The serra is like a marvellous botanical garden, with more than 1,000 plant species, for many of which it constitutes the southwest European limit.Despite forest fires and huge plantations of pine and eucalyptus, patches of oak, cork, oak, chestnut and arbutusberry tree still persist, along with hundreds of types of colourful wildflowers, turning the hills into a paradise for amateur botanists.There is plenty for birdwatchers to see too. Among the dozens of species to he found are storks, goshawks, roundwinged, royal and mottled eagles, wild pigeons, doves, water hens, kingfishers, cuckoos, owls, nightingales, bluecaps and wrens.
Flavours of the Serra de Monchique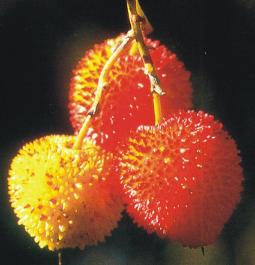 Dishes made with rice and beans or chestnuts are not to be missed. Equally tasty are the many recipes based on pork, which also finds its way into a wide variety of delicious home made sausages and blood sausages, including "farinheiras" and "mólhos". Another local delicacy is the ham cured using methods centuries old its smoky, nutty flavour is unforgettable.Honey is an ingredient common to nearly all the cakes and desserts of the Monchique region: "bolo de tacho" and honey pudding. The nectar gleaned from the many different types of wild flower makes a fragrant, complex honey that has long had a reputation for quality. Indeed bees have been kept commercially since the 16th century. At the end of a meal nothing goes down like a glass of "medronho", the heady spirit made in copper stills from the fruits of the arbutus tree, or a sip of "melosa", a mixture of brandy and honey.
A Land of Crafts
The craftsmen and women of Monchique still make wicker baskets, wooden spoons, knives and other kitchenware, cloths and other linen items as their predecessors did for generations before them. Scissor chairs, so called because of the way they fold shut, are possibly an invention left behind by the Romans, and are to be found in all sizes. Modern craft trends are reflected in dried flower arrangements, tapestry pictures and sculptures made of tree branches.
During your holiday don't forget to visit the most famous and important highlights of the Algarve .Beginning with the Algarve 's capital, located at the sea side Faro, is surrounded by the Ria Formosa, a nature reserve of 17.00 hectares and stopping place for migrating birds. The Faro airport is connecting the Algarve with most European capitals by direct flights and handles several million passengers a year. Drive west and you will arrive to Vilamoura. A special place, an exclusive leisure and recreation resort community where the peace of life is so easy it feels like summer all year round. Driving a few kilometres more, you will get to the centre of the Algarve , Albufeira, acknowledged as one of the main tourist regions of the country. Continuing towards the heart of the sunny Algarve , you will find the small inlet of Carvoeiro protected between high cliffs. A few kilometres ahead, Lagos is our last stop. A Marina presents a lovely picture and the harbour, is the first sight a visitor has. With its relaxed atmosphere and quiet charm, make it one of the most appealing locations in the Algarve to visitors from abroad, an important tourist town there are still many architectural signs of its ancient past.Car Hire in the Algarve at a cheap price, a brand new vehicle and a helpful team to assist you. We suggest the following websites: Algarve Car Hire, Car Hire in the Algarve, Car Hire Portugal, Portugal Car Hire, Car Hire Lisbon, Faro Car Hire, Vilamoura Car Hire, Albufeira Car Hire, Carvoeiro Car Hire, Lagos Car Hire. If you need airport transfer from or to Faro airport check out Algarve Transfers.